Wednesday, December 7, 2022 at 8:00 p.m.
Another morning, another ride. Two mornings in a row with coffee and camera in hand. This time I drove towards Memramcook, but nothing got my attention. A few drops of coffee dripped on my hand, so I stopped next to the Memramcook church to clean that up. From there, I liked the shape of the church and tree, finally making my first photo (Top right in the image below).
I kept driving towards Dorchester, with little catching my eye. Then I noticed a few house silhouettes in Dorchester on the top of a hill that was interesting. On my way back, I grabbed a few quick shots, including the one on the left above.
Also, on the way back, I got a photo of this small church (bottom right). I loved the tree against the bright sky. But when I looked at my images on the computer, I almost didn't keep that one. So finally, I decided to edit it, and it became my favorite that morning.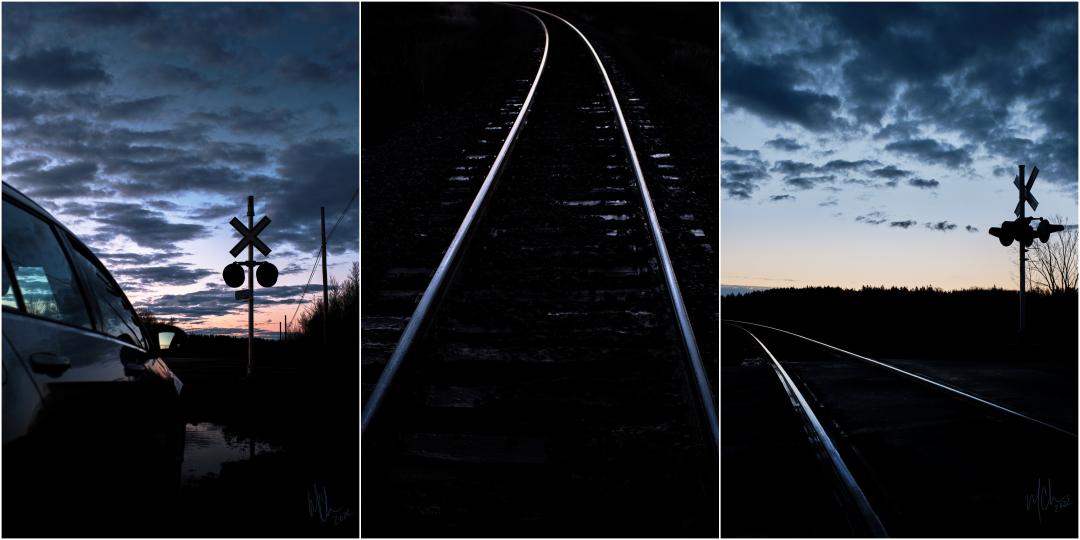 In Dorchester, I also stopped at this railway. The train had just passed, I saw it on my way there. The tracks must have still been warm. The bright reflection of the sky on the tracks is definitely what caught my eye for these. Rail tracks almost always make pleasing photographs. The strong leading lines are just so pleasant to the eyes.
Un autre matin, un autre voyage. Deux matins d'affilée, café et appareil photo en main. Cette fois-ci, j'ai roulé vers Memramcook, mais rien n'a attiré mon attention. Quelques gouttes de café ont coulé sur ma main, alors je me suis arrêté près de l'église de Memramcook pour les nettoyer. De là, j'ai aimé la forme de l'église et de l'arbre, pour finalement faire ma première photo (En haut à droite dans l'image ci-dessous).
J'ai continué à rouler vers Dorchester, sans que rien n'attire mon attention. Puis j'ai remarqué quelques silhouettes de maisons à Dorchester, au sommet d'une colline, qui étaient intéressantes. Sur le chemin du retour, j'ai pris quelques photos rapides, dont celle de gauche ci-dessus.
Aussi sur le chemin du retour, j'ai également pris une photo de cette petite église (en bas à droite). J'ai adoré l'arbre contre le ciel lumineux. Mais quand j'ai regardé mes images sur l'ordinateur, j'ai failli ne pas garder celle-là. Alors finalement, j'ai décidé de la retoucher, et elle est devenue ma préférée ce matin-là.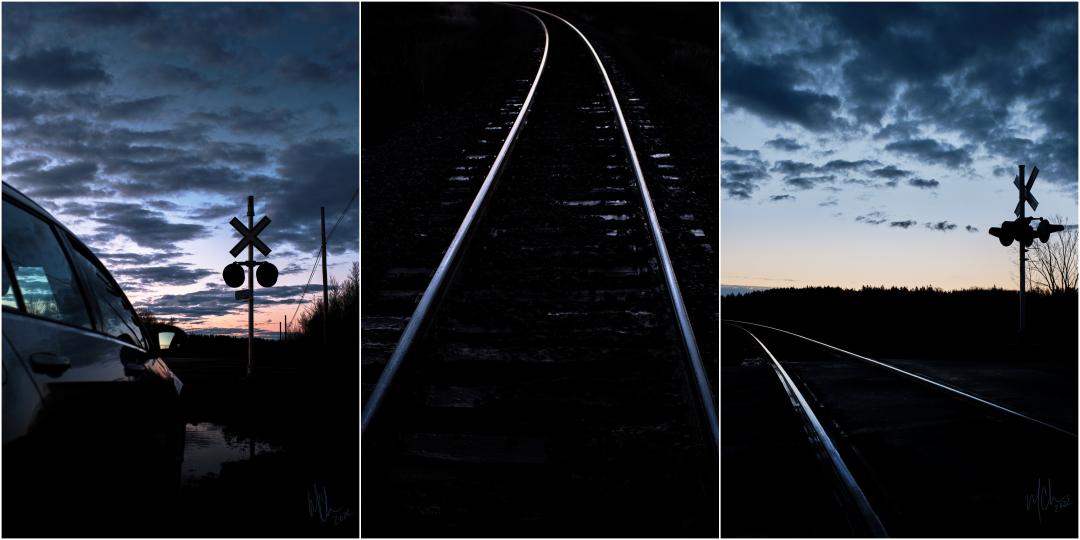 À Dorchester, je me suis également arrêté à ce chemin de fer. Le train venait de passer, je l'ai vu en chemin. Les rails devaient être encore chauds. Le reflet brillant du ciel sur les rails est certainement ce qui a attiré mon attention sur ces photos. Les voies ferrées font presque toujours des photos agréables. Les lignes directrices fortes sont si agréables à regarder.