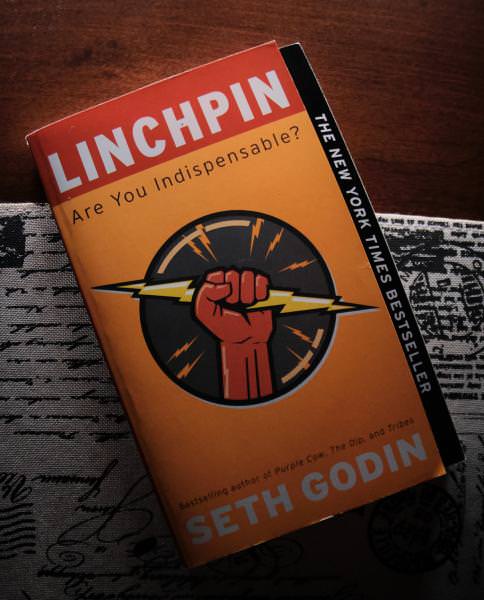 Linchpin is all about being better in a world that desperately needs people who dare to step up. As usual, Seth Godin is upfront with his assessment of our current world and what type of people are going to thrive in such a world. Which is anyone who chooses to do step up and fill the needs of the system.
It's not my first Seth Godin's book. I knew his style and knew I'd enjoy it from the start. All his books have similar ideas and concepts that leaps from one book to the other but they're so thoughtful and coherent that it works.
One of those concepts is that everyone creates art. Art is not just painting, but rather anything that's innovative and creates a connection with others. In fact, he debates that painting following a set template or repetitive technique without much creation is not art. And I agree with that. You'll hear me say over and over similar ideas when it comes to digital manipulation of images, if your process includes using presets and following steps then you're not really creating anything.
This book is not just for artists, it's for anyone who wants to become more than a cog in the system. Parents can get a lot from his analysis of the current school system. Office workers can get a lot from understanding the history of the construction of big corporations. And so on.
I would recommend Seth's book to anyone. They give an insight into our world that you will just not be able to get from articles, blog posts, podcasts, or any TV documentary. Seth's books change people's thoughts, this one is no exception. You'll feel like moving mountains after reading this.
"Wait! Are you saying that I have to stop following instructions and start being an artist? Someone who dreams up new ideas and makes them real? Someone who finds new ways to interact, new pathways to deliver emotions, new ways to connect? Someone who acts like a human, not a cog? Me?"
Yes.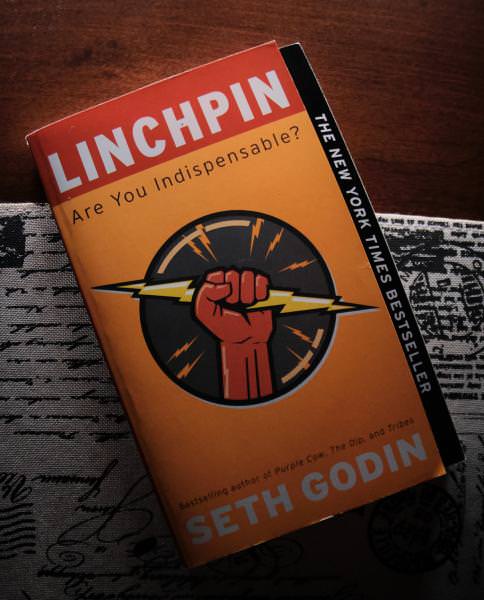 L'objectif principal de Linchpin est d'être meilleur dans un monde qui a désespérément besoin de personnes qui osent s'engager. Comme d'habitude, Seth Godin est franc avec son évaluation de notre monde actuel et du type de personnes qui vont s'épanouir dans un tel monde. C'est-à-dire tous ceux qui choisissent de créer et de s'engager.
Ce n'est pas mon premier livre de Seth Godin. Je connaissais son style et je savais dès le début que je l'apprécierais. Tous ses livres ont des idées et des concepts similaires qui sautent d'un livre à l'autre, mais ils sont si réfléchis et cohérents que ça marche.
L'un de ces concepts est que tout le monde crée de l'art. L'art n'est pas seulement de la peinture, mais plutôt tout ce qui est innovant et qui crée un lien avec les autres. En fait, il débat du fait que peindre en suivant un modèle établi ou une technique répétitive sans grande création n'est pas de l'art. Et je suis d'accord avec cela. Vous m'entendrez répéter sans cesse des idées similaires lorsqu'il s'agit de manipulation numérique d'images, si votre processus comprend l'utilisation de préréglages et le suivi d'étapes par étapes, alors vous ne créez pas vraiment quelque chose.
Ce livre n'est pas seulement destiné aux artistes, il s'adresse à tous ceux qui veulent devenir plus qu'un rouage du système. Les parents peuvent tirer beaucoup de son analyse du système scolaire actuel. Les employés de bureau peuvent obtenir beaucoup en comprenant l'histoire de la construction des grandes entreprises. Et, ainsi de suite.
Je recommande le livre de Seth à tout le monde. Il donne un aperçu de notre monde que vous ne pourrez tout simplement pas obtenir à partir d'articles, de blog, de podcasts ou de n'importe quel documentaire télévisé. Les livres de Seth changent la façon de penser des gens, celui-ci ne fait pas exception. Vous aurez l'impression de déplacer des montagnes après avoir lu ceci.
"Attendez ! Vous voulez dire que je dois arrêter de suivre les instructions et commencer à être un artiste ? Quelqu'un qui invente de nouvelles idées et les rend réelles ? Quelqu'un qui trouve de nouvelles façons d'interagir, de nouvelles voies pour délivrer des émotions, de nouvelles façons de se connecter ? Quelqu'un qui agit comme un être humain, et non comme un rouage ? Moi ?
Oui.