Nature is intriguing, don't you think? It's so vast. So immense. And at the same time, it's so intricate and detailed. These rock formations along the Atlantic shore are an excellent example of intriguing. These bizarre rock formations might be as plain ordinary as it gets but how would I know? I'm not a geologist. All I can say is that they intrigue me.
You can see the layers of dirt turned into hard rock but then there are these perfectly round rock shapes in there. They remind me of old civilizations. Not Inca old but the magical and mystical unknown to us type of civilization. Kinda like being connected to something else.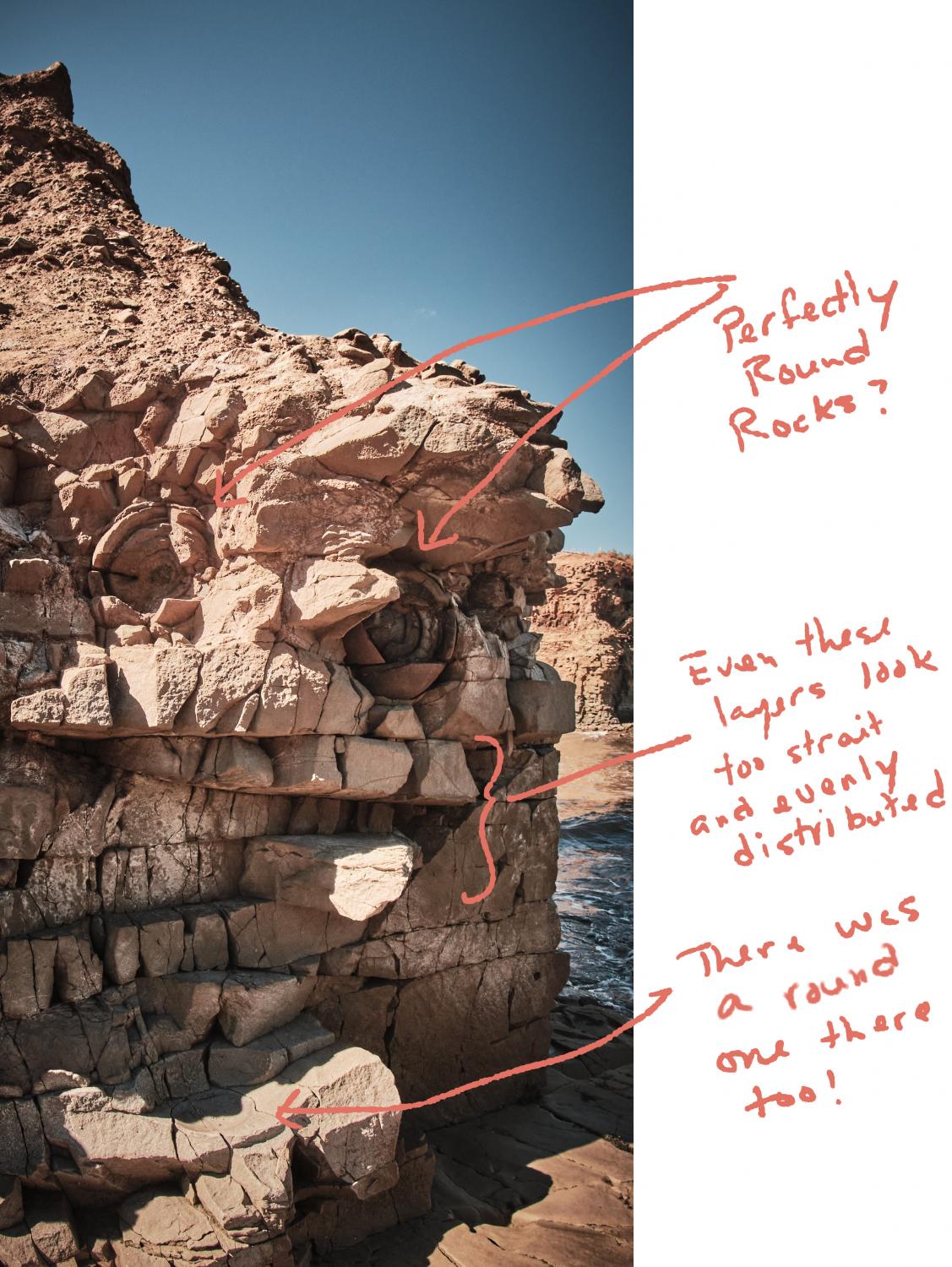 But beyond the geology and mystical side of things, these make some incredible photography subjects.
I think the wide-angle, fisheye look makes them look even more impressive. The lines and curves are gorgeous. The warm tone and sun make them look even more ancient and mystical. I may play around with these more to see how good images can come out of those masterpieces by Mother Earth.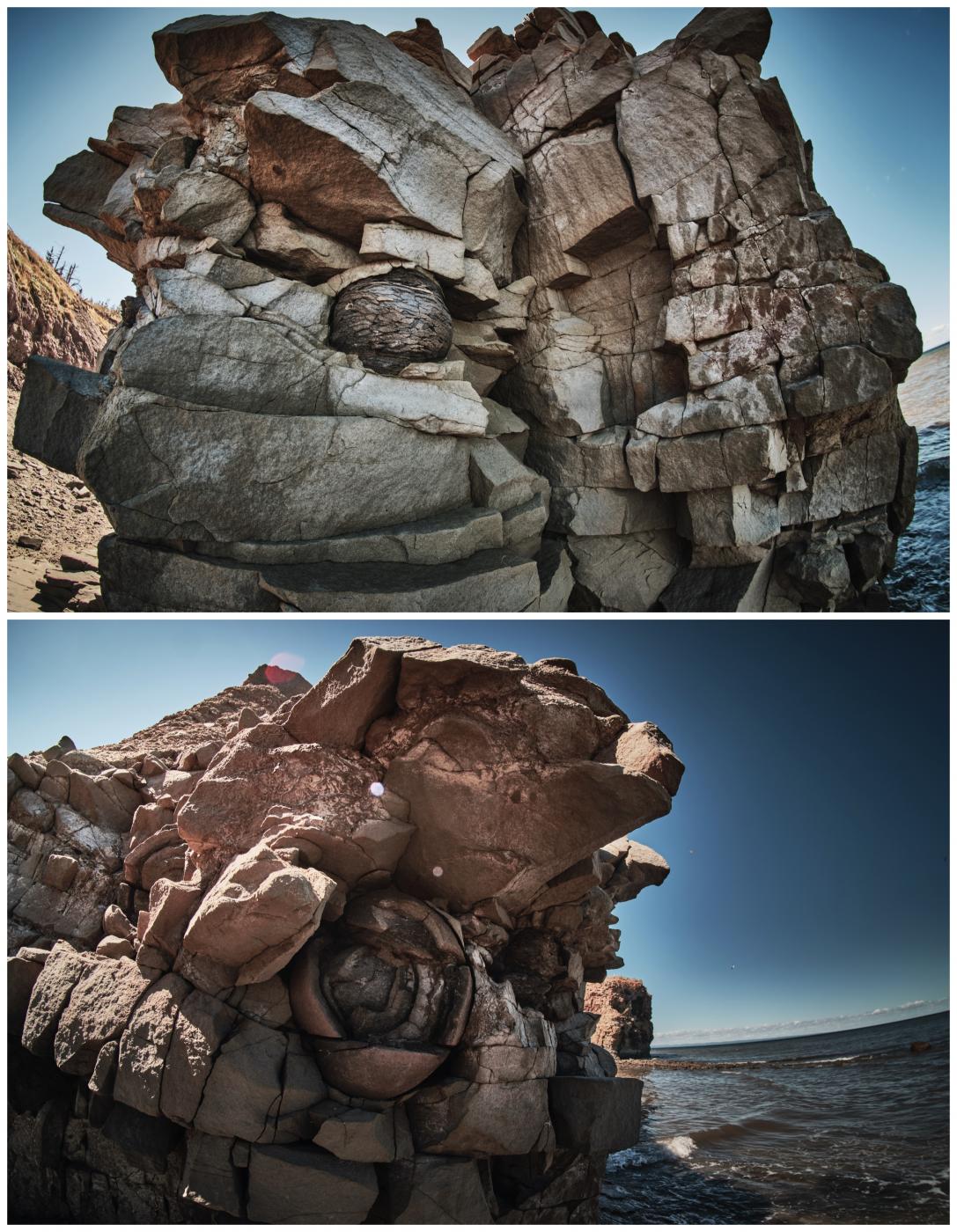 This is definitely a place I want to go back. Next time at low tide so that I can explore along the shore, all the way to the caves and also around the large island.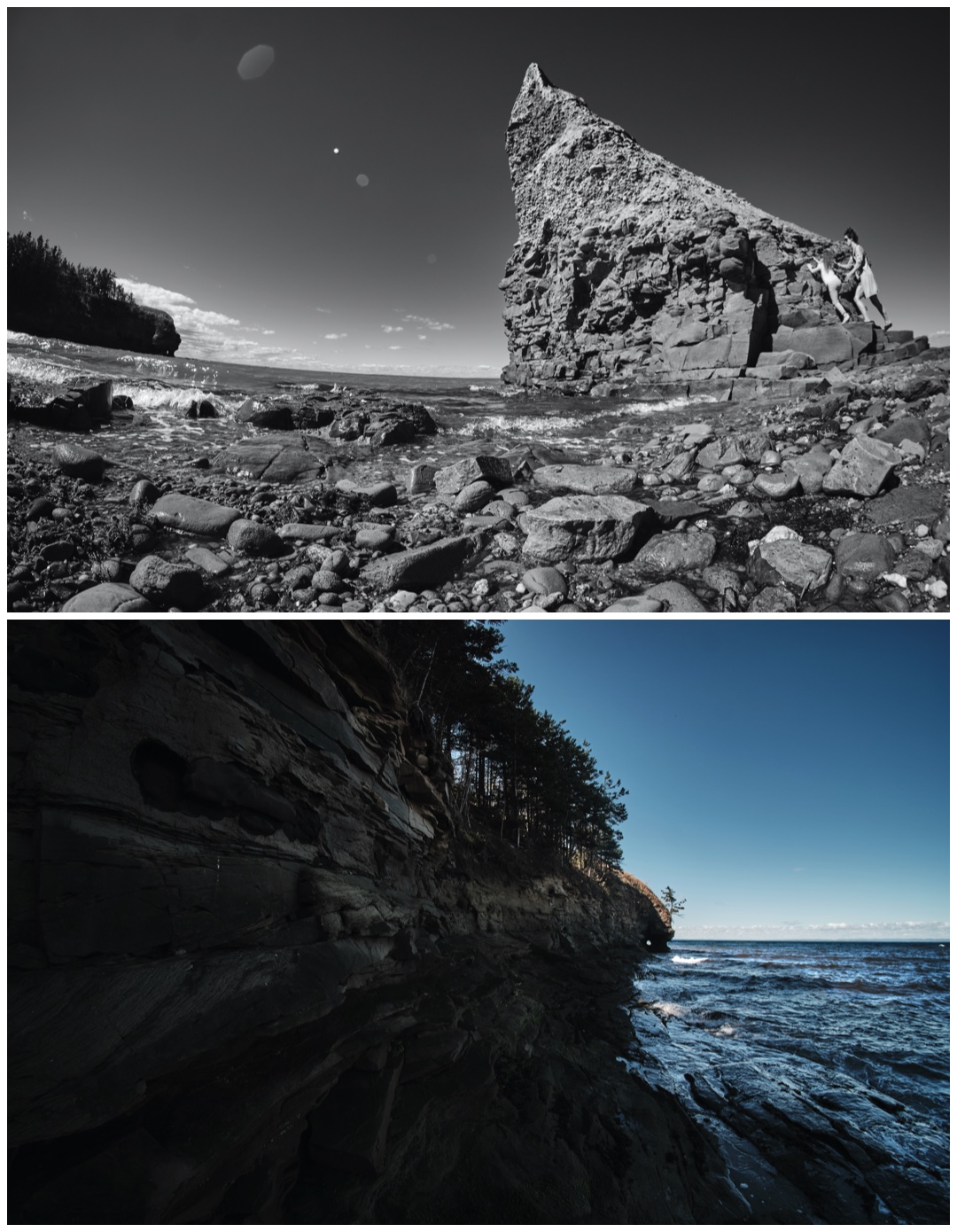 But of course, like everything else someone has a "perfectly logical" explanation for things. Perfectly round rocks formed over millions of years are found in many places on earth. You can read more here about that "natural" phenomena or like me prefer to believe they are remnants of ancient mystical civilizations! What a wonderful world we live in!
La nature est intrigante, vous ne trouvez pas ? Elle est si vaste. Si immense. Et en même temps, elle est si minutieuse et détaillée. Ces formations rocheuses le long de la côte atlantique sont un excellent exemple d'intrigue. Ces formations rocheuses bizarres sont peut-être aussi ordinaires que possible, mais comment le saurais-je ? Je ne suis pas géologue. Tout ce que je peux dire, c'est qu'elles m'intriguent.
Vous pouvez voir les couches de terre transformées en roche dure, mais il y a aussi ces formes rocheuses parfaitement rondes. Elles me rappellent les anciennes civilisations. Pas du genre anciennes Inca, mais le type de civilisation magique et mystique qui nous est inconnu. C'est un peu comme être connecté à quelque chose de lointain.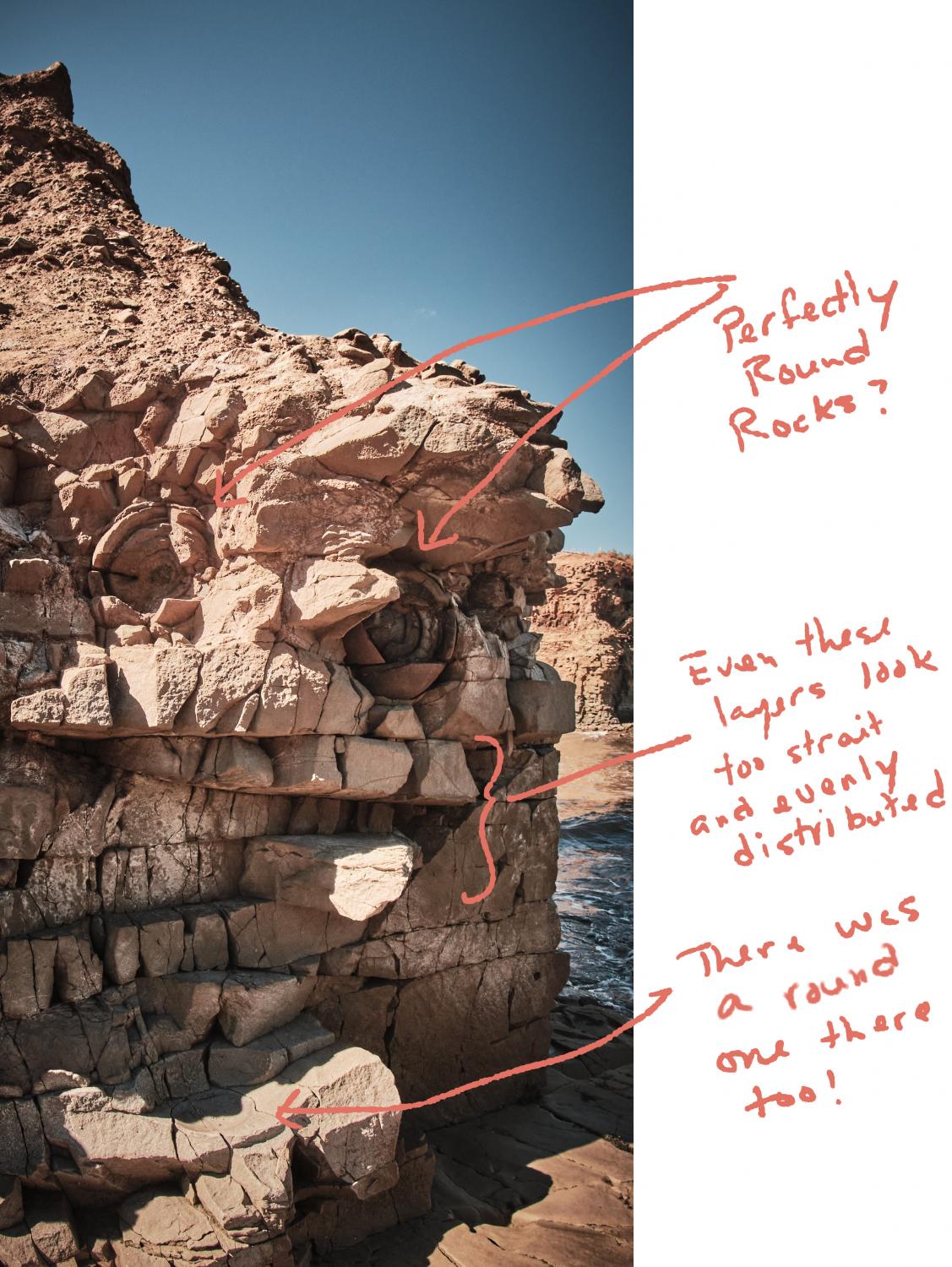 Mais au-delà de la géologie et du côté mystique des choses, c'est magnifique rochers font d'incroyables sujets de photographie.
Je pense que le grand angle et l'effet fisheye les rendent encore plus impressionnants. Les lignes et les courbes sont magnifiques. Les tons chauds et le soleil leur donnent un aspect encore plus ancien et mystique. Je vais peut-être jouer avec eux pour voir comment de bonnes images peuvent sortir de ces chefs-d'œuvre de la Terre Mère.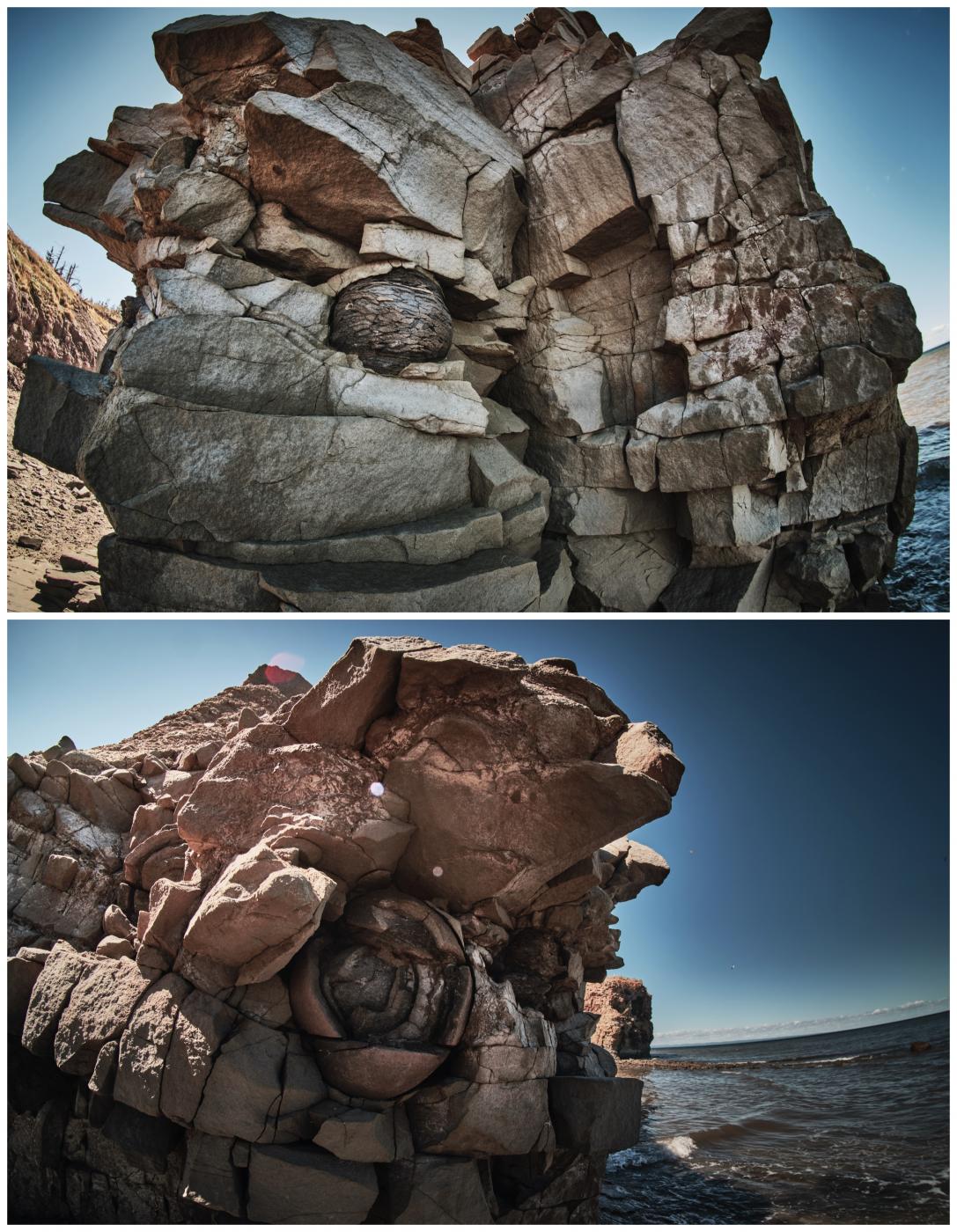 C'est définitivement un endroit où je veux retourner. La prochaine fois à marée basse pour que je puisse explorer le long du rivage, jusqu'aux grottes et aussi autour de la grande île.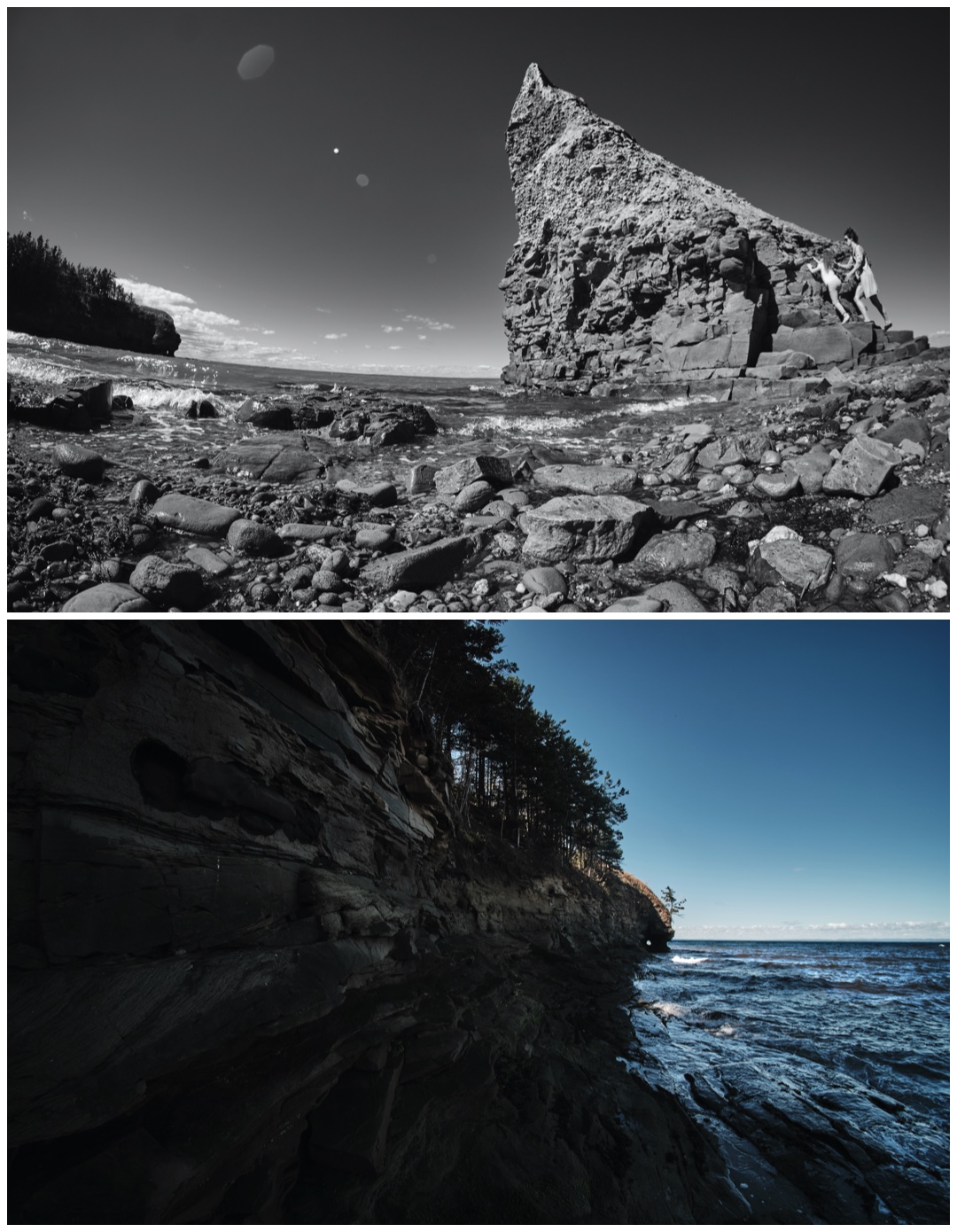 Mais bien sûr, comme pour tout le reste, quelqu'un a une explication "parfaitement logique" des choses. Des roches parfaitement rondes, formées sur des millions d'années, se trouvent en de nombreux endroits sur terre. Vous pouvez cliquez ici pour en savoir plus sur ce phénomène "naturel" ou, comme moi, préférer croire qu'il s'agit de vestiges d'anciennes civilisations mystiques ! Quel monde merveilleux dans lequel nous vivons !