Last summer, I had the opportunity to go photograph the Auberge de la Baie in Caraquet. It was a first for me to ask specifically to shoot interior rooms, also known as interior photography. First, did I have the right tools to do the best job? The answer is yes and no.
Without going too deep into technical details, my camera has a crop sensor, which is a bit smaller than what's referred to as the standard size called "full-frame". This is great for taking longer shots but not so much for wider images, which is exactly what is needed to make interior photography images. But I do have a wide 16mm lens which has superb image quality. Ideally, 10-12mm would be better on a crop sensor like mine but I didn't have that.
Other than a wide-angle lens, you need a tripod to have the best quality images in those poorly lit hotel rooms.
With that in mind, I set out for Auberge de la Baie...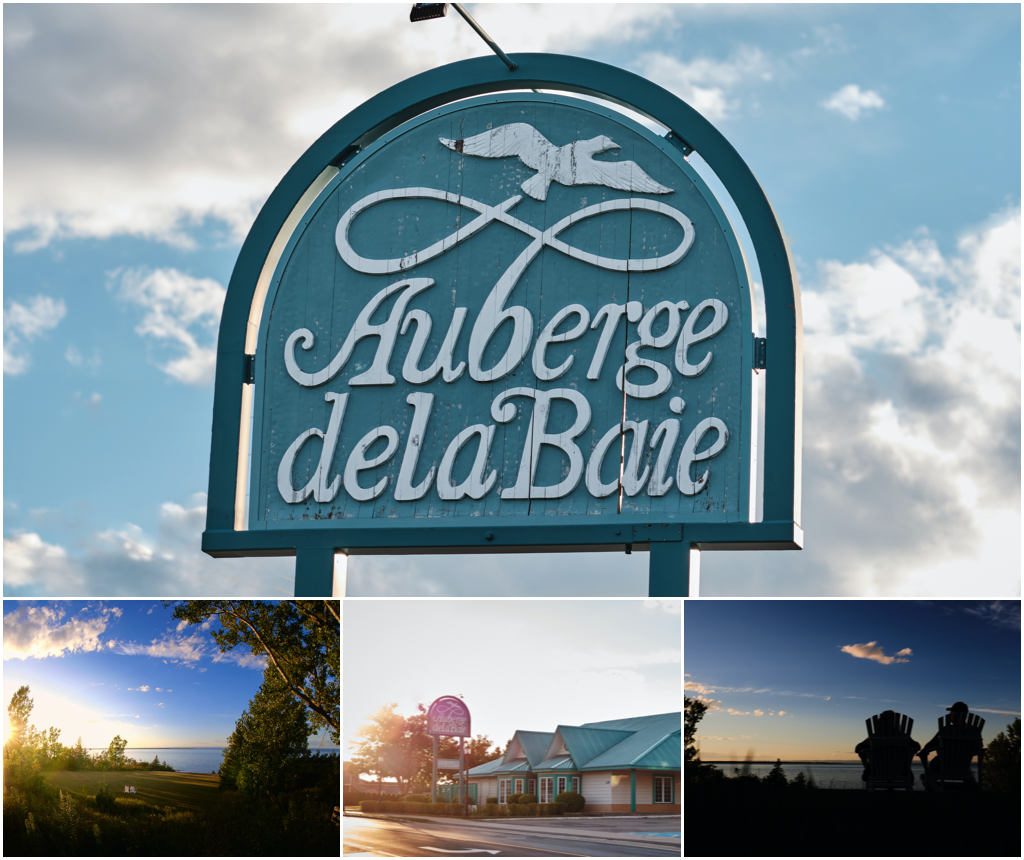 Because they had that beautiful seaside view I made sure to be there for the sunset. This lovely couple, Carm and Steve, were happy to model for the sunset pictures. I always loved silhouette images, they're so much more interesting with people than only empty chairs.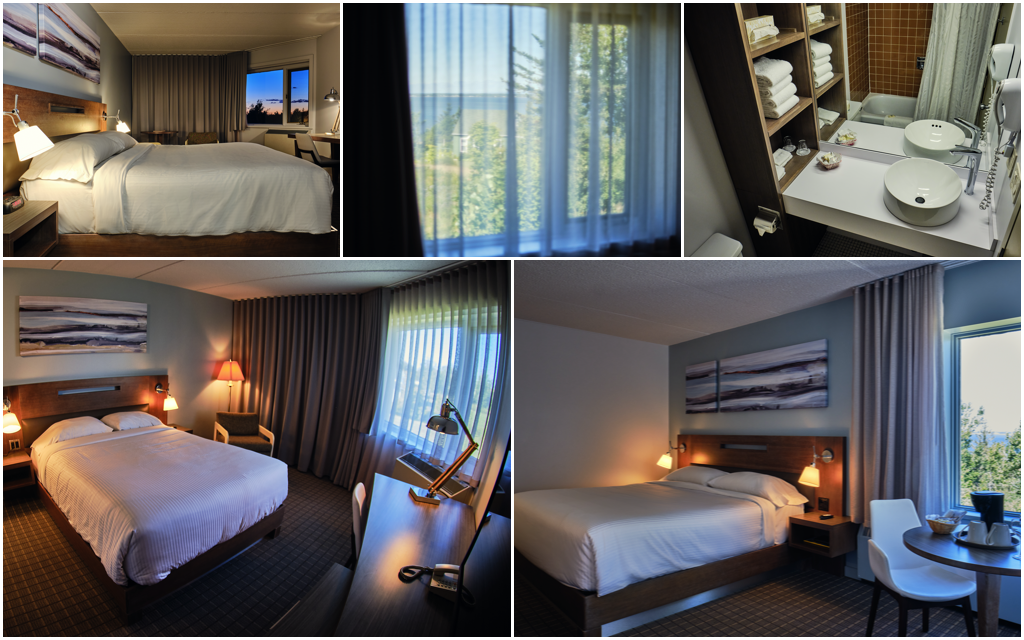 As you can see, the 16mm did a pretty decent job (top left and bottom right). The quality and sharpness are great. I also brought my fisheye lens, for fun, but as it has proven many times over, it delivered more than fun but also unique perspectives. These are not as sharp (you won't see on those small images), you can see some distortion but depending where you crop the images it's not too bad (See bottom left image). I don't know if the hotel is going to use those, they're not as professional but at the same time, they do a great job of showing the rooms.
As for the bathrooms, these are so small and nearly impossible to take images showing them all. The fisheye was good for those tiny spaces. I had to get creative with the way to capture these, I'm behind the curtain shooting from above the curtain in the upper right image.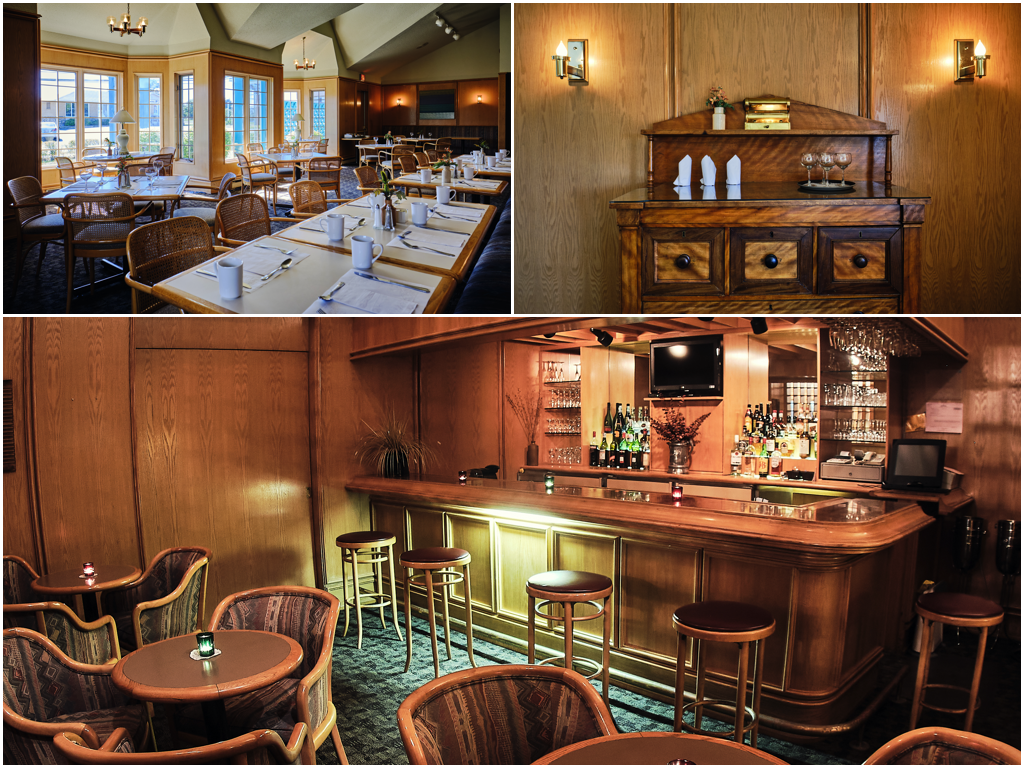 Finally, the dining area and bar. Again, balancing light all over in these images is a challenge. I know all the dimmers of the hotel by heart by now. I think it would have helped to bring in lights for the bar, to even out that light from under the bar but by the time I got to the bar I was starting to run out of time.
I enjoyed the experience, I took my time (I think I was there for a total of 6 hours over 2 days). I'd do it again.
L'été dernier, j'ai eu l'occasion d'aller photographier l'Auberge de la Baie à Caraquet. C'était une première pour moi d'être sollicité spécifiquement pour photographier des chambres intérieures, ce qu'on appelle aussi la photographie d'intérieur. D'abord, avais-je les bons outils pour faire le meilleur travail ? La réponse est oui et non.
Sans trop entrer dans les détails techniques, mon appareil photo est équipé d'un "crop sensor", qui est un peu plus petit que ce qu'on appelle la taille standard appelée "full-frame". C'est parfait pour prendre des photos plus longues, mais pas tellement pour des images plus larges, ce qui est exactement ce qu'il faut pour faire des images de photographie d'intérieur. Mais je dispose d'un objectif 16 mm qui offre une superbe qualité d'image. Idéalement, le 10-12 mm serait mieux sur un "crop sensor" comme le mien, mais je n'avais qu'une 16mm.
En dehors d'un objectif grand angle, il faut un trépied pour obtenir des images de la meilleure qualité dans ces chambres d'hôtel mal éclairées.
C'est dans cet esprit que je suis parti à l'Auberge de la Baie...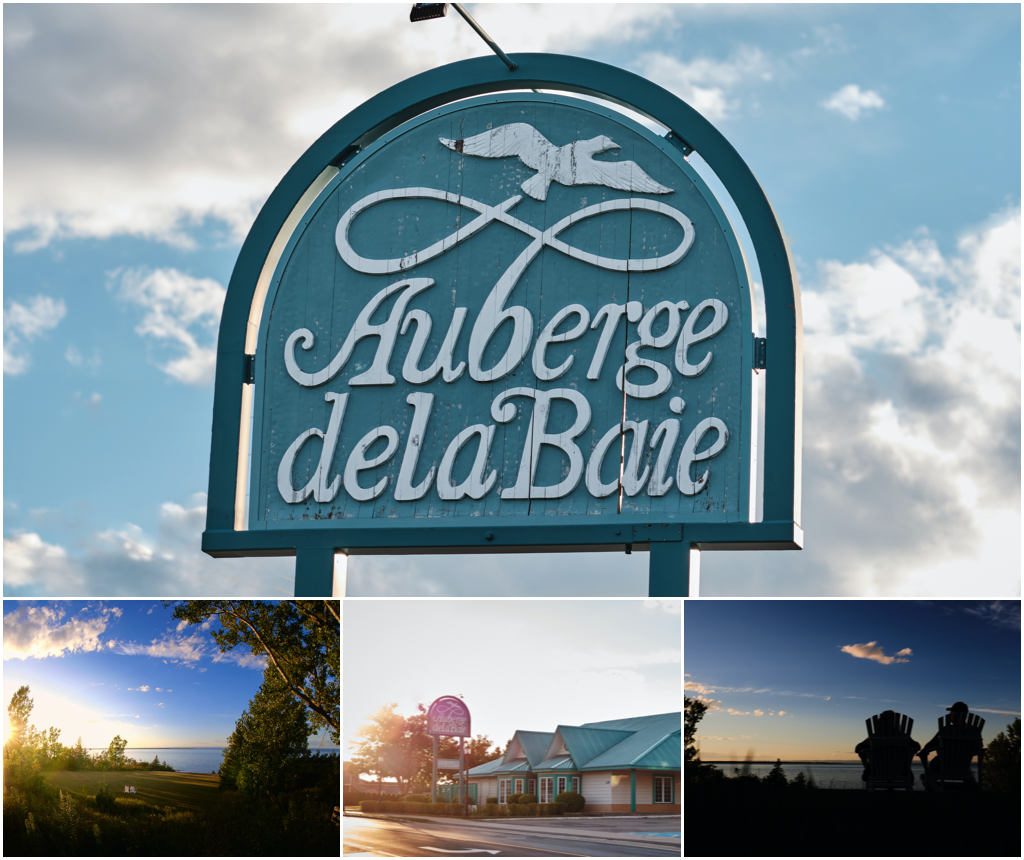 Comme ils avaient cette belle vue sur la mer, je me suis assuré d'être là pour le coucher du soleil. Ce charmant couple, Carm et Steve, étaient heureux de poser pour les photos du coucher de soleil. J'ai toujours aimé les images de silhouettes, elles sont tellement plus intéressantes avec les gens que des chaises vides.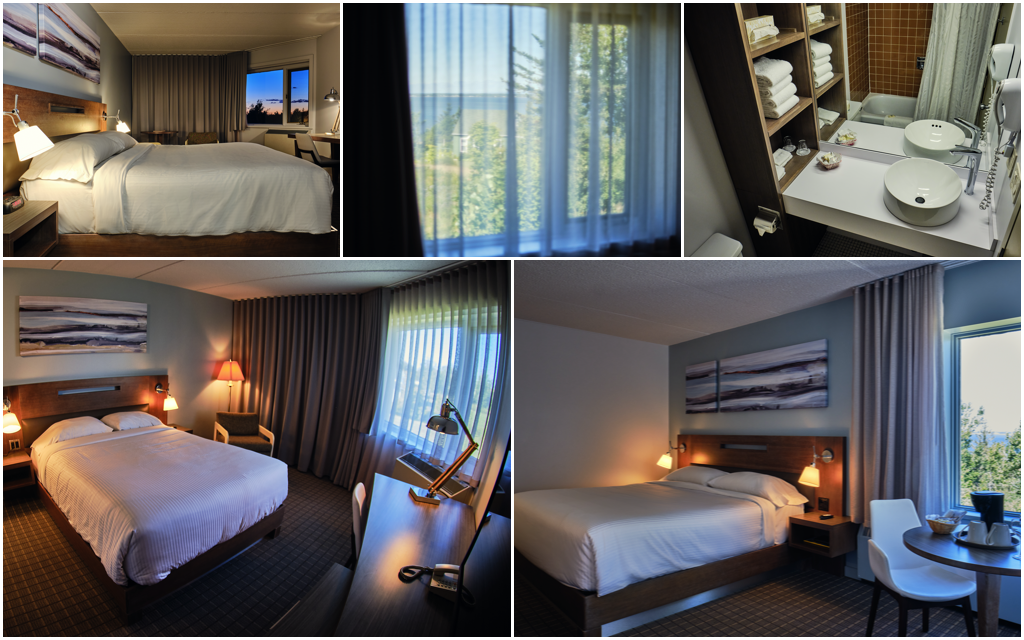 Comme vous pouvez le voir, le 16 mm a fait un travail assez décent (en haut à gauche et en bas à droite). La qualité et la netteté sont excellentes. J'ai aussi apporté mon objectif fisheye, pour le plaisir, mais comme il l'a prouvé à maintes reprises, il a apporté plus que du plaisir, mais aussi des perspectives uniques. Celles-ci ne sont pas aussi nettes (vous ne verrez pas sur ces petites images), vous pouvez voir une certaine distorsion mais selon l'endroit où vous recadrez les images, ce n'est pas trop mal (voir image en bas à gauche). Je ne sais pas si l'hôtel va les utiliser, elles ne sont pas aussi "professionnelles" mais en même temps, elles font un excellent travail de présentation des chambres.
Quant aux salles de bains, elles sont si petites et il est presque impossible de prendre des photos les montrant toutes. Le fisheye était bon pour ces petits espaces. J'ai dû faire preuve de créativité dans la manière de les capturer, je suis derrière le rideau et je prends des photos du haut du rideau sur l'image en haut à droite.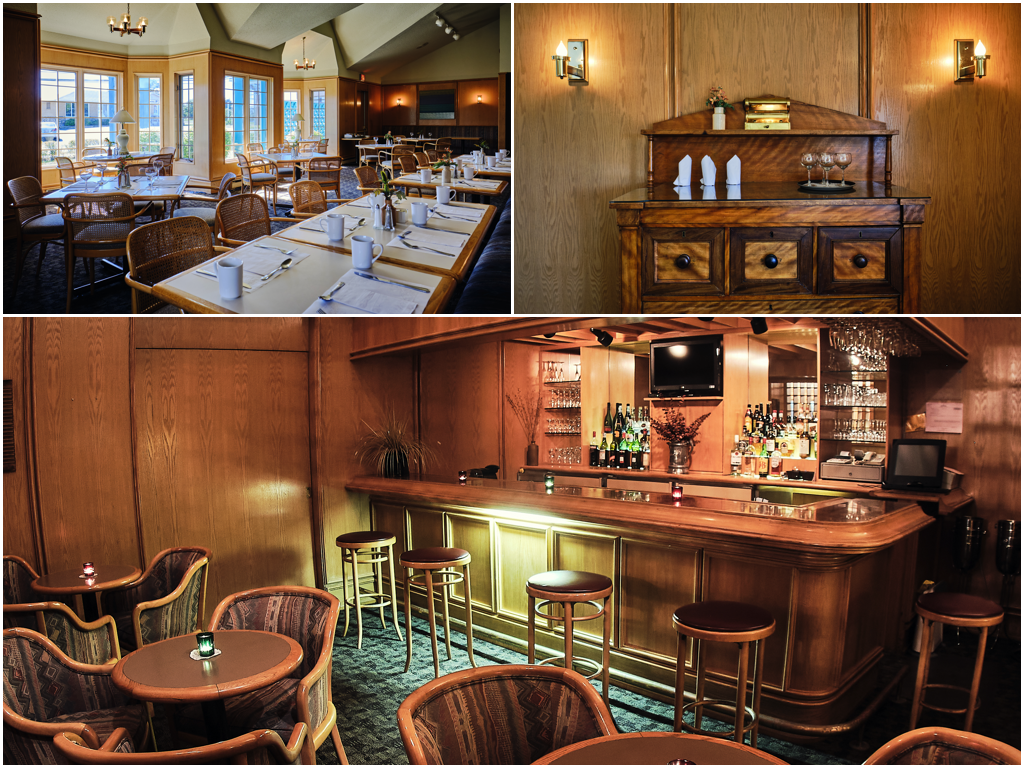 Enfin, la salle à manger et le bar. Là encore, l'équilibre de la lumière dans ces images est un défi. Je connais par cœur tous les gradateurs de l'hôtel maintenant. Je pense qu'il aurait été utile d'éclairer le bar, d'égaliser la lumière sous le bar, mais quand je suis arrivé au bar, je commençais à manquer de temps.
J'ai apprécié l'expérience, j'ai pris mon temps (je pense que j'ai été là pendant 6 heures au total sur 2 jours). Je le referais.