Thursday, November 26, 2020 at 6:45 p.m.
Once in a while I get an idea that flashes in my mind of a photo I want to make, most of the time it's not something I can easily create. For example, I may have a vision of a ballet dancer with an umbrella under the rain in the middle of an empty street. Doable, but not easy to pull off. This time, I had this idea with a pocket watch which I was only missing the pocket watch. Went on Amazon and ordered a cheap one and two days later I was throwing watches in the air.
I'm trying to play with shallow depth of field which is having only a tiny part of the image in focus while the rest is blurred out. Plus do that with flashes. It's not an easy thing to do.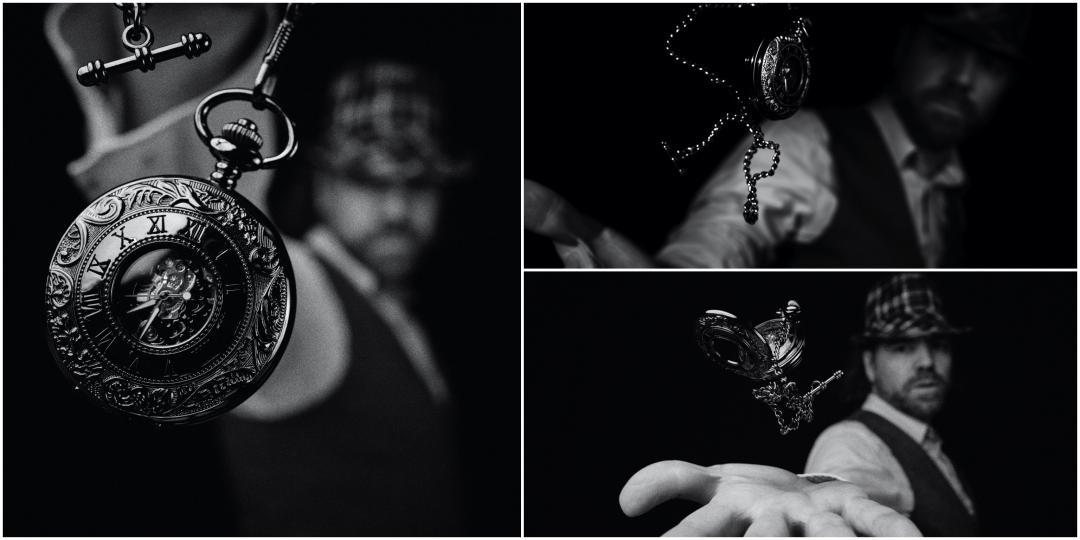 Technical stuff alert!
In a nutshell, you get a shallow depth of field by opening the aperture, which is the opening in the lens. When you do that, you let more light in onto the camera sensor. If too much light comes in then your photo is going to be all white. So your flashes need to produce less light. But flashes can only go down so much.
I was aiming at F1.4 (most wide open) to f2.8 for these images. I ended up at f4.0 with my flashes at their lowest settings (1/256 of their full power) and I still had to push them farther (the further the light the less power it has). I used two lights because I wanted one focused on the watch and one that would lit me in the background but less intense. I set that one farther.
Recap...
Lens used 12mm F1.4 on my Fuji XT2
Settings: F4.0 at 1/250 sec (needed to sync with flash) and ISO100 (the lowest you can)
I used a black backdrop
One light at 1/256 with a grid pointed on my hand/watch. Set just left of the camera
One light at 1/256 with an umbrella right and behind of the camera.
I'm throwing the watch at about 6 inches from the camera for that distorted effect.
The Camera is on manual focus, so that it doesn't change.
Because I'm all alone, I use a remote trigger to take the photos.
The flash is what freezes the watch in the air without any motion blur. If you decide to try this without the flashes I would recommend going outdoor with a shutter speed of 1/4000 of a second or faster.
Back to normal talk
I'm happy with the results but I want to go back and try more things. Maybe change the light setup a little. Maybe try an ND filter (sort of sunglasses for camera to cut down the light) to be able to make the shot even more shallow. But that's going to be hard and leave almost no margin for how far the watch needs to be from the lens, a quarter of an inch too close or too far will make it blurry. Might not be a good idea for something as unpredictable as throwing something in the air. It's already difficult enough not to drop the watch every time.
Only time (pun intended) will tell if I can find the perfect setup for these shallow depth of field flash shots.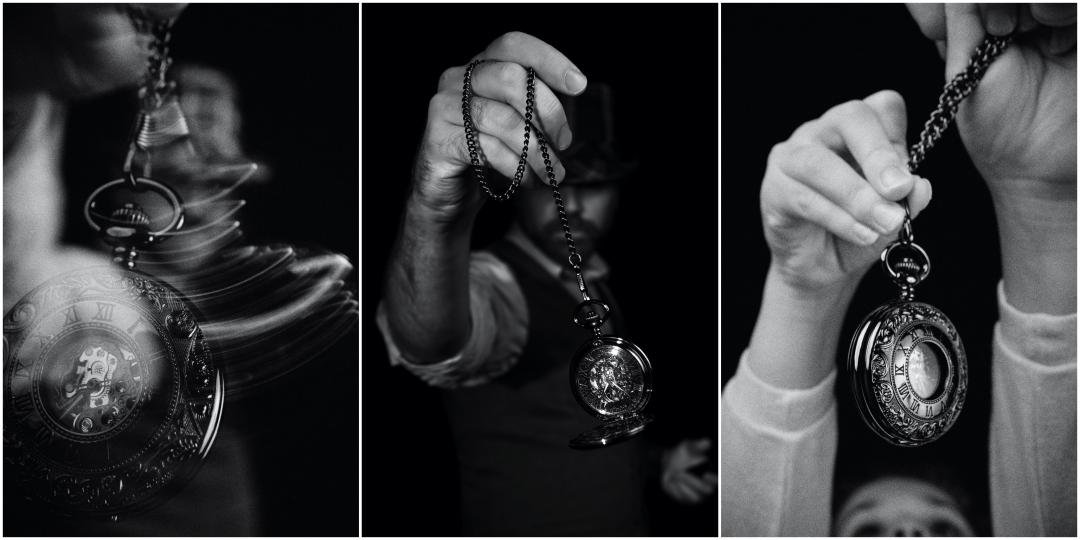 De temps en temps, j'ai une idée qui me vient à l'esprit d'une photo que je veux faire, la plupart du temps ce n'est pas quelque chose que je peux facilement créer. Par exemple, je peux avoir une vision d'une danseuse de ballet avec un parapluie sous la pluie au milieu d'une rue vide. C'est faisable, mais pas facile à réaliser. Cette fois, j'ai eu cette idée avec une montre de poche à laquelle il ne me manquait que la montre de poche. Je suis allé sur Amazon et j'en ai commandé une bon marché et deux jours plus tard, je lançais des montres en l'air.
J'essaie de jouer avec la faible profondeur de champ qui ne permet de mettre en focus qu'une infime partie de l'image alors que le reste est flou. Et je fais ça avec des flashs. Ce n'est pas une chose facile à faire.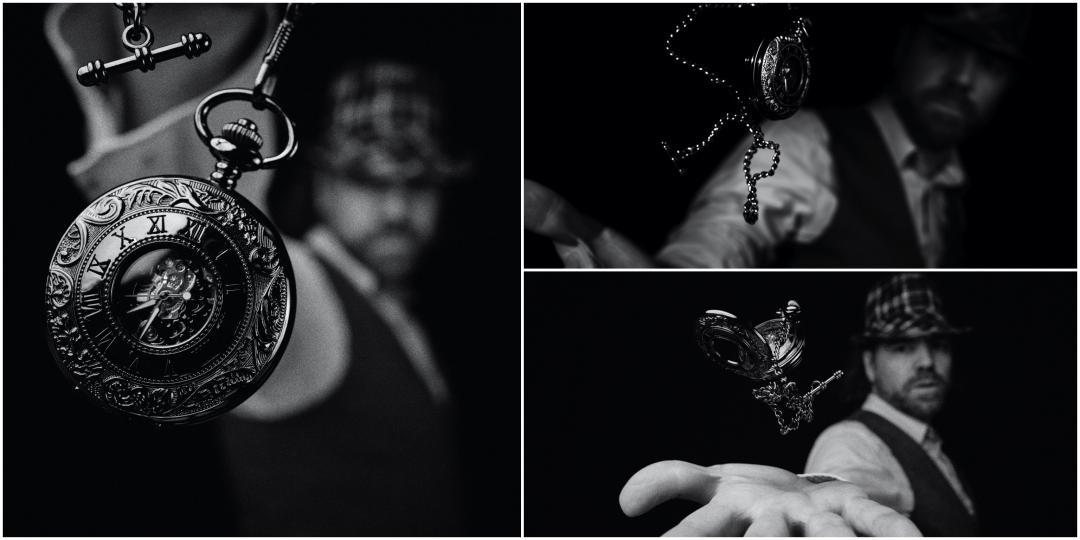 Alerte technique !
En un mot, vous obtenez une faible profondeur de champ en ouvrant l'ouverture de l'objectif. Lorsque vous faites cela, vous laissez entrer plus de lumière sur le capteur de l'appareil photo. Si la lumière est trop forte, votre photo sera toute blanche. Vos flashes doivent donc produire moins de lumière. Mais les flashs ne peuvent pas descendre aussi bas.
Pour ces images, je visais une ouverture de F1,4 (grande ouverte) à f2,8. Je me suis retrouvé à f4.0 avec mes flashes à leur plus faible puissance (1/256 de leur puissance maximale) et même là j'ai dû les pousser encore plus loin (plus la lumière est loin, moins elle est puissante). J'ai utilisé deux lumières parce que je voulais en avoir une concentrée sur la montre et une autre qui m'éclairerait en arrière-plan mais moins intense. J'ai réglé celle-ci plus loin.
Récapitulatif...
Objectif utilisé : 12mm F1.4 sur mon Fuji XT2
Réglages : F4.0 à 1/250 sec (nécessaire pour synchroniser avec le flash) et ISO100 (le plus bas possible)
J'ai utilisé un fond noir
Une lumière au 1/256 avec une grille pointée sur ma main/montre. A gauche de l'appareil photo
Une lumière au 1/256 avec un parapluie à droite et derrière la caméra.
Je lance la montre à environ 15 cm de la caméra pour cet effet de distorsion.
La caméra est en mise au point manuelle, pour qu'elle ne change pas.
Comme je suis tout seul, j'utilise un déclencheur à distance pour prendre les photos.
Le flash est ce qui fige la montre en l'air sans aucun flou de mouvement. Si vous décidez d'essayer cela sans les flashs, je vous recommande d'aller à l'extérieur avec une vitesse de déclenchement de 1/4000 de seconde ou plus rapide.
Retour à la conversation normale
Je suis content des résultats, mais je veux revenir en arrière et essayer d'autres choses. Peut-être changer un peu la configuration de l'éclairage. Peut-être essayer un filtre ND (une sorte de lunettes de soleil pour la caméra afin de réduire la lumière) pour pouvoir rendre la prise de vue encore plus floue. Mais cela va être difficile et ne laisse presque aucune marge pour la distance entre la montre et l'objectif, quelques millimètres de trop près ou de trop loin rendra la montre floue. Ce n'est peut-être pas une bonne idée pour quelque chose d'aussi imprévisible que de lancer quelque chose en l'air. Il est déjà assez difficile de ne pas faire tomber la montre à chaque fois.
Seul le temps (jeu de mots) me dira si je peux trouver la configuration parfaite pour ces prises de vue au flash à faible profondeur de champ.