Tuesday, June 22, 2021 at 4:45 p.m.
With all the pictures I take, you would think that I'd have more images of my family than anything else. But no. For some odd reasons, I struggle at taking images of not just my family but anything surrounding my daily life. I often don't think about taking images of what's going on around me, not even with my phone. I don't have the mindset of documenting my life and even less so of sharing it on social media for everyone to throw hearts at me.
Lately, I've been trying to have my camera handy as much as I can by bringing it with me to places, and most important take it out to make images. All the while staying in the moment and enjoying the company of my family. It's easy to fall off and start focusing on photography instead of the people. It's a balance thing that all photographers have to deal with.
When looking back at older photos, it's always the ones that were taken in natural contexts that bring back the fondest memories. Portrait and "look at the camera and smile" types of photos are nice to have but they are just not as rich in emotion as natural images.
I'm also teaching Emilie to press the shutter of my camera so that I can be in at least a few of those family images!
Any photographers out there having the same challenges as I do? Or maybe different one?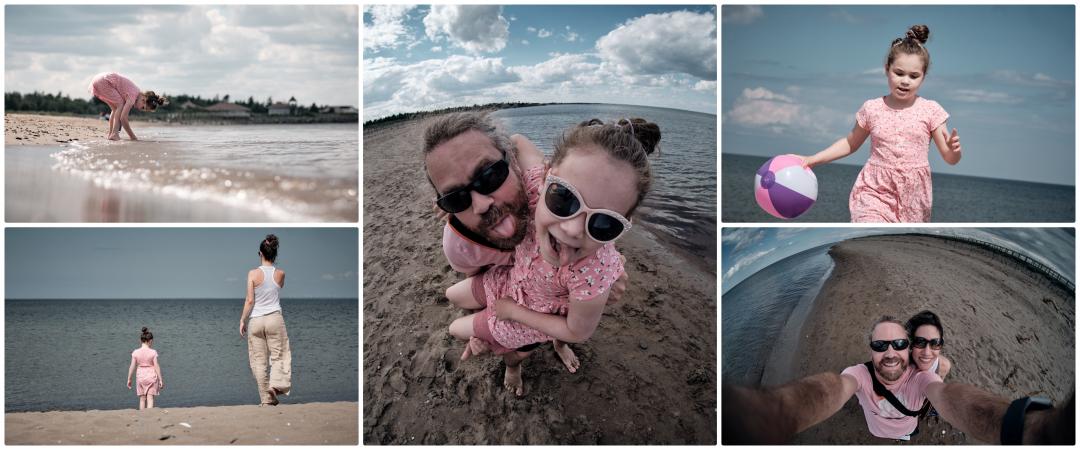 Avec toutes les photos que je prends, on pourrait penser que j'ai plus d'images de ma famille qu'autre chose. Mais non. Pour d'étranges raisons, j'ai du mal à prendre des photos non seulement de ma famille, mais aussi de tout ce qui entoure ma vie quotidienne. Souvent, je ne pense pas à prendre des photos de ce qui se passe autour de moi, même pas avec mon téléphone. Je n'ai pas le "mindset" de documenter ma vie et encore moins de la partager sur les médias sociaux pour que tout le monde me jette des coeurs.
Dernièrement, j'ai essayé d'avoir mon appareil photo à portée de main autant que possible en l'emmenant avec moi dans des endroits, et surtout en le sortant pour faire des images. Tout en restant dans le moment présent et en profitant de la compagnie de ma famille. Il est facile de tomber et de commencer à se concentrer sur la photographie plutôt que sur les gens. C'est un problème d'équilibre auquel tous les photographes doivent faire face.
Lorsque je regarde des photos anciennes, ce sont toujours celles qui ont été prises dans des contextes naturels qui me rappellent les meilleurs souvenirs. Les portraits et les photos de type "regardez l'appareil et souriez" sont agréables à avoir, mais ils ne sont pas aussi riches en émotions que les images naturelles.
Je suis également en train d'apprendre à Emilie à appuyer sur l'obturateur de mon appareil photo pour que je puisse être sur au moins quelques-unes de ces photos de famille !
Est-ce que vous avez le même problème que moi? Ou peut-être que vous avez des obstacles complètement différents?