Monday, November 8, 2021 at 12:30 p.m.
If plague doctors existed today, they would have made their research on Facebook and Google. But there's a huge difference between the so-called Covid experts who did all their "research" on the subject and the so-called "plague doctors" ... even though plague doctors were not real physicians, they stepped up to help plague victims. They were front row in the battle against the plague. They didn't hide behind a screen. They didn't pretend the plague didn't exist. And above all, they wore their mask lol
Now a fun question for you... why the bird mask? The beak had a specific purpose.
The purpose of the beak was to prevent bad smells, which were thought to be how the plague transmitted. In all honesty, I think stopping bad smells would have been reason enough. They stuffed the beak with various sweet and strong-smelling substances like lavender to overpower strong smells.
Enough about history. The real question is...
Why do I have a plague mask?
Well, to have a definitive answer, you'll have to wait. In the meantime, all I can say is that I have a vision of a specific set of images I want to make with the mask. I always loved the plague mask, I'm weird. This one might take time to put together and find the right mood I'm looking for.
In the meantime here are a few more images...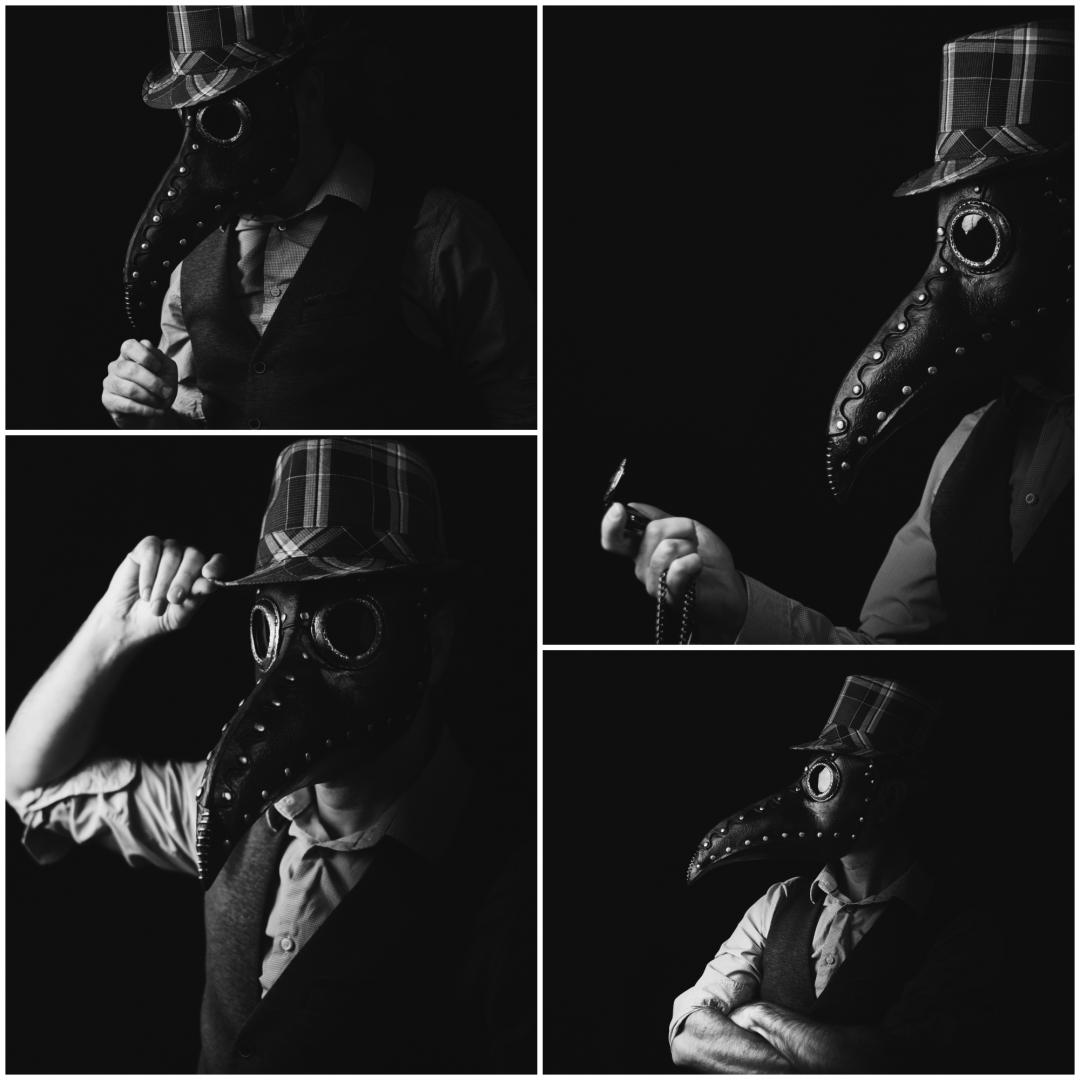 Si les médecins de la peste existaient aujourd'hui, ils auraient fait leurs recherches sur Facebook et Google. Mais il y a une énorme différence entre les soi-disant experts du Covid qui ont fait toutes leurs "recherches" sur le sujet et les soi-disant "médecins de la peste"... même si les médecins de la peste n'étaient pas de vrais médecins, ils se sont mobilisés pour aider les victimes de la peste. Ils étaient au premier rang de la bataille contre la peste. Ils ne se sont pas cachés derrière un écran. Ils ne prétendaient pas que la peste n'existait pas. Et par dessus tout, ils portaient leur masque lol
Maintenant, une question amusante pour vous... pourquoi le masque d'oiseau ? Le bec avait un but précis.
Le but du bec était d'empêcher les mauvaises odeurs, dont on pensait qu'elles étaient le mode de transmission de la peste. En toute honnêteté, je pense qu'empêcher les mauvaises odeurs aurait été une raison suffisante. Ils ont rempli le bec de diverses substances sucrées et odorantes comme la lavande pour neutraliser les odeurs fortes.
Assez parlé d'histoire. La vraie question est...
Pourquoi j'ai un masque de peste ?
Eh bien, pour avoir une réponse définitive, vous devrez attendre. En attendant, tout ce que je peux dire, c'est que j'ai une vision d'un ensemble spécifique d'images que je veux faire avec le masque. J'ai toujours aimé le masque de la peste, je suis bizarre. Celui-ci pourrait prendre du temps à mettre en place et à trouver la bonne humeur que je recherche.
En attendant, voici quelques images supplémentaires...