Tuesday, June 2, 2020 at 6:00 p.m.
If there's something I believe in, it is diversity. I like to think about everything, like photography, as only being a part of a whole. A part of life. And as such, improving one part of your life will improve other parts of your life. Health then would help your photography. But in general, I'm a believer in living a fuller life, one that resonates with you, not me, not any celebrity or guru.
I'm going to be talking about some seemingly random subjects from time to time, things I think might be valuable to share.
One thing that working from home has helped me with is making fresh salads which are so much better than salads stuffed into containers prepared in advance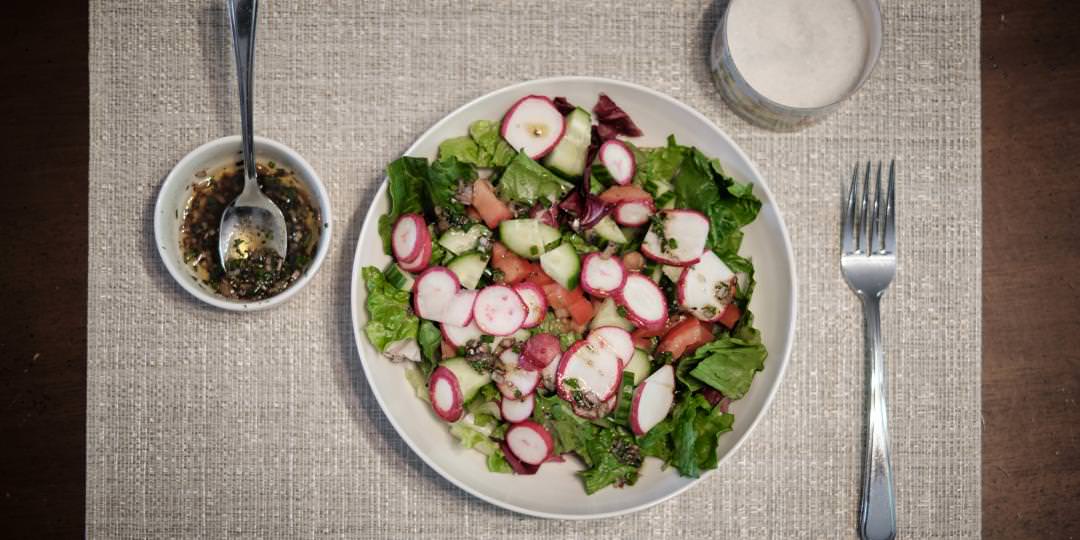 I played around with ingredients (and I'll continue to do so, that's the fun part) and found a few things that help my salad taste so much better. Here are my few tips.
Mix lettuce, add some that have bolder tastes as roquette with milder ones like roman salad. I like the mix of roman with radicchio. Then homemade vinaigrette, a good oil with a good vinegar or lime juice mixed with shallots and chives. It's up to you to experiment, but I find that lightly salted and seasoned vinaigrette will beat any store vinaigrette.
Finally, you can top it with nuts, dried fruits, or croutons to make it a little filling. Or of course, add meat. But I like the vegetarian version for my mid-day lunch.
What about taking images of food?
Then you can of course practice your photography on your freshly made salad!
Key things I look for when taking food images. I'm not a pro by any means! I'm as fresh in food photography as my salad. But make sure your white balance is right on, the color of food is super important. Over-expose a little, food should look bright. Wide-open aperture works really well with food as the focus id right on the food and everything else is out-of-focus.
For little extra punch slightly adjust the colors, here I added saturation to green and red and remove saturation to other colors which really shows the fresh colors of the salad.
Finally, (this should have been first) composition, remove any distraction from the photo, make sure the utensils are well lined up or at least create nice lines with plates and everything else.
Pay attention to light. Window light with softer shadows really makes the colors pop. But more creative lighting works just as good in many cases depending on what you want.
The rest is all creative fun. So take pictures and have fun!
S'il y a une chose en laquelle je crois, c'est la diversité. J'aime penser que tout, comme la photographie, n'est qu'une partie d'un tout. Une partie de la vie. En d'autre mots, améliorer une partie de votre vie améliorera d'autres parties de votre vie. La santé vous aidera alors à faire progresser votre photographie. Mais en général, je crois en une vie plus pleine, une vie qui résonne avec vous, pas avec moi, pas avec une célébrité ou un gourou.
De temps en temps, je vais parler de sujets apparemment aléatoires, de choses que je pense être utiles à partager.
Une chose que le travail à domicile m'a aidée à faire, c'est de préparer des salades fraîches qui sont tellement meilleures que les salades préparées à l'avance.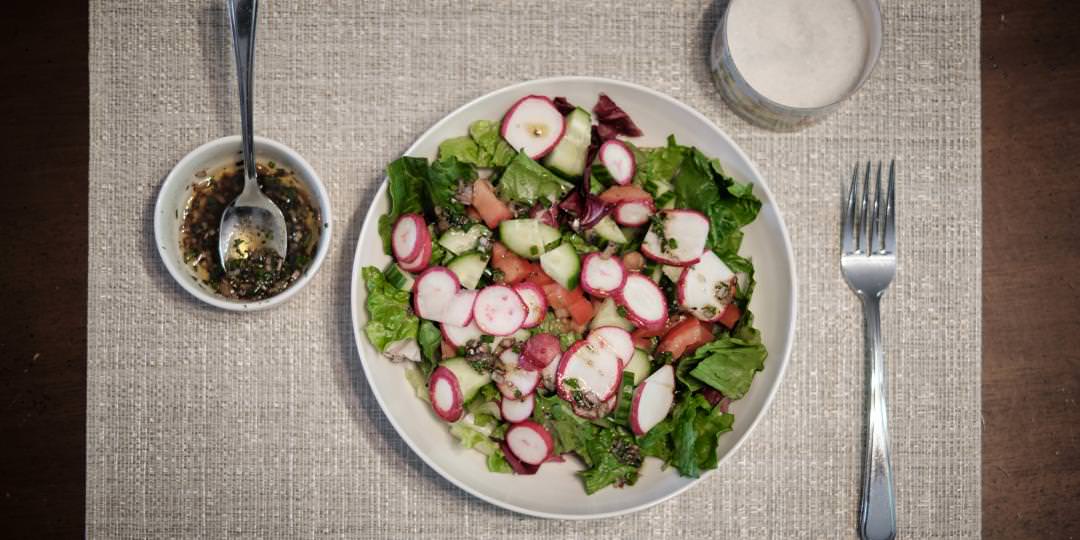 J'ai joué avec les ingrédients (et je vais continuer à le faire, c'est la partie amusante) et j'ai trouvé quelques trucs qui aident à donner un meilleur goût à mes salades. Voici mes quelques conseils.
Mélangez les types de laitue, ajoutez-en qui ont des goûts plus prononcés comme la roquette et d'autres plus doux comme la salade romaine. J'aime le mélange de romaine avec de la radicchio. Puis une vinaigrette maison, une bonne huile avec un bon vinaigre ou du jus de lime mélangé avec des échalotes et de la ciboulette. C'est à vous d'expérimenter, mais je trouve qu'une vinaigrette légèrement salée et bien assaisonnée battra n'importe quelle vinaigrette de magazin.
Enfin, vous pouvez la garnir de noix, de fruits secs ou de croûtons pour la rendre un peu plus remplissante. Ou bien sûr, ajoutez de la viande. Mais j'aime bien la version végétarienne pour mon repas de midi.
Et on peut photographier cette salade?
Vous pouvez bien sûr pratiquer votre photographie sur votre salade fraîchement préparée !
Les éléments clés que je recherche lorsque je prends des photos d'aliments. Et n'oubliez pas que je ne suis pas du tout un pro ! Mais assurez-vous que votre "White balance" est correcte, la couleur de la nourriture est super importante. Surexposez un peu, la nourriture devrait être bien lumineuse et claire. Une grande ouverture de caméra (Aperture) fonctionne très bien avec la nourriture, car le focus se fait directement sur la nourriture et tout le reste est flou.
Pour un peu plus de punch, ajustez légèrement les couleurs, ici j'ai ajouté de la saturation au vert et au rouge et enlevé la saturation aux autres couleurs, ce qui montre vraiment les couleurs fraîches de la salade.
Enfin, (cela aurait dû être le premier) la composition, enlever toute distraction de la photo, s'assurer que les ustensiles sont bien alignés ou au moins créer de belles lignes avec les assiettes et tout le reste.
Faites attention à la lumière. La lumière des fenêtres avec des ombres plus douces fait vraiment ressortir les couleurs. Mais un éclairage plus créatif fonctionne tout aussi bien dans de nombreux cas, en fonction de ce que vous voulez.
Le reste n'est que plaisir créatif. Alors, prenez des photos et amusez-vous bien !